Black Faux Wax Coffee Table

Your Designer Furniture...
My black faux wax coffee table actually started as an old beat up coffee table that I had acquired from a second-hand store in which I was determined to breathe some new life into.
My Inspiration
I happen to be looking at a House Beautiful magazine and the transformation light flipped on! I saw an awesome set of expensive, dark, romantic dining chairs that had a finish on them that I wanted on my coffee table.

Unsure as to how they achieved the finish, I was determined to make my own "Finish Formula" for this table so I could admire it in my home.

BTW: I am a firm believer that just about anything can be transformed or fixed with paint.

How I see it...

From what I saw by looking at the picture and guessing, the dining chairs were stained a dark walnut chestnut mix. Then a white paste wax was rubbed over the entire chair in all the wood grain and seams, which was mostly buffed off. Matte clear-coat. Warm brown upholstery. Done. Beautiful.

Now to transform the look onto a larger scale surface and hope it will have the same stunning results!

OK...now to make it the poor man's way...LOL

Bargain Coffee Table I Used To Change Into Designer Furniture...

There were some pretty big gouges and deep scratches all over the table I chose for my black faux wax coffee table project [hey...it was from a second-hand store what do you expect], but the overall shape gave off a very "Pottery Barn vibe"...but medium honey colored wood and deep scratches?! 

Not quite the look I was going for...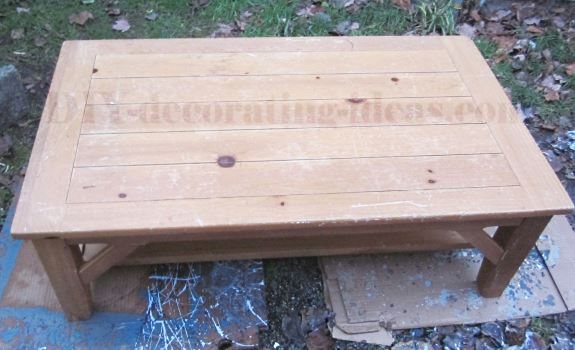 Perfect table for my black faux wax coffee table project!
This black faux wax coffee table project required some work to do but I looked forward to the challenge. You will see how easy you can also achieve this faux wax look.

So, lets get creative...
NOTE:  Before you begin, mix together some tinted "Ash Grey" primer, and also some "Colt Black" paint, for your project, see recipes below.

WHAT YOU NEED
A solid wood piece of furniture, in this case a $8 coffee table...super bargain!
Your custom mixed "Colt Black" paint or a store bought premixed latex paint...see below
Your custom mixed "Ash Grey Tinted Primer"
Painting gloves, painting tray, brushes, rollers and paint stir sticks, as well as containers for mixing custom colors [if mixing your own]
Drop cloth
Sandpaper in various grits. I used: 50, 80, 120-180 and 240
Protective eye wear

Tack cloth
Faux wax...see recipe below

Below is my custom color palette which I used for this black faux wax coffee table project. Of course you can use your own color palette, but if you love the results I got from these colors...use them!

Olympic paint colors Dark Granite D32-6 and Black Magic D58-6 are pretty close to the colors I custom mixed for this DIY project.

What to do for YOUR black faux wax coffee table project...
I decided to leave the scratches and not fill any of them, figuring it would give the table some added character. I did sand it down really well though using a 240 grit sand paper.

Table before it was sanded...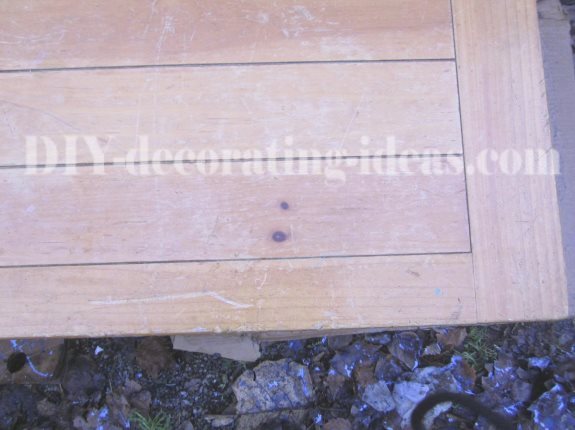 My black faux wax coffee table before I did some sanding
Instead of putting white primer on the table I painted it with my own mix of "Ash Grey" primer.

To make your own tinted primer, determine the amount of "tinted primer" you will need to cover the entire project, and this will help you figure out the approximate amount of paint+primer you should mix together.

For my examples the paint and primer mixtures are measured out in quart measurements. Use a quart size paint container or a paint cup measure to equal an approximate color similar to the ones used in this project. 

Tinted Primer Recipe: "Ash Grey"
In a quart bucket mix:

1 part black acrylic paint
1 part KILZ® primer - not oil base
Mix well
Note:  This tinted primer may be a little thick, so just add a little water to thin it out...not too much though. This will make it easier to brush on your project.

Paint Recipe: "Colt Black"

For my custom "Colt Black" paint mixture
mix together in a quart bucket:

1/2 black acrylic paint
1/2 chocolate brown acrylic paint
Add more or less of any of the previous listed colors to achieve the color you want
You can add a few tablespoons of water if you would like a thinner paint
Mix well
TIP -  If you are not into concocting your own paint, above in my color palette for this DIY project are some pre-mixed paint colors that are similar and will work just as beautifully!

For a similar pre-mixed paint color that matches my Colt Black you can purchase Black Magic D58-6 by Olympic Paints.

Lets get started...

NOTE:  If you want to add the classy milk crate sized woven storage baskets below the table you will need to remove the attached shelf from underneath the table as I did.

Sorry I don't have pictures for this exhilarating step but my camera was having a hard time functioning in the blustery, 28 degree weather. If that's not a hardcore DIYer, I don't know what is...LOL

You can find the nice baskets that are pictured under the table at most Target stores, priced around $19.99 each.

1
1. Paint the entire piece with your tinted primer after you have sanded and wiped the piece down with a tack cloth.
Let it partially dry to the touch.

Time to brush on your custom paint color!

2
2. Next I painted a coat of "Colt Black" my own mix of paint of dark chocolate and black. I didn't want it to be too black, mixing the dark chocolate with it achieved that goal...see paint mix recipe.

Let dry to the touch.

3
3. Apply another coat of the same "Colt Black" paint.

Let dry to the touch.

NOTE:  Its easier to distress a piece that is almost dry or dry to the touch, than a piece that has dried and cured completely. I used the "dry to the touch" for this method.

4
4. Then wielding my 50 and 80 grit sandpapers, cut through all the layers of paint until some wood showed through, not too much though...a little here and there, mostly on the corners and places that would naturally have wear on them.

5
5. Follow it up with a smoother grit sandpaper. I used a 120-180 grit sandpaper to "smooth out" those rough edges.

Making Your Own Faux Wax Finish
Now the fun part!

I didn't have any white paste wax handy, so I mixed up some of my own "faux wax".

Note:  This wax has nothing to do with wax as in candle wax or floor wax or car wax; there is no wax in my "faux wax" at all, do not put wax in the paint!

All I used to make my "faux wax" is paint and water!

To make the "faux wax" I mixed up some white and a little gray paint, watering it down until it was almost the consistency of chocolate milk, but not  the COLOR of chocolate  milk!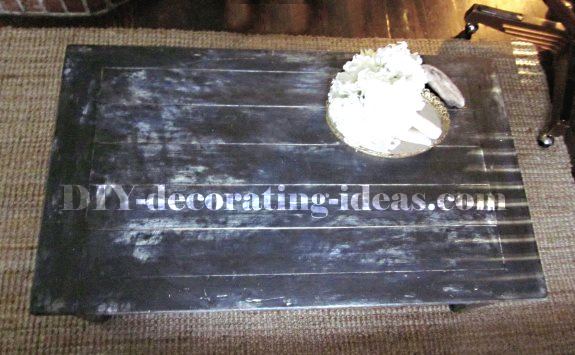 6

6. Make sure the table is placed on a paint drop cloth, plastic or cardboard because it's going to get messy!

7
7. You will need to do this step rather quickly.

Take a big brush and load it with the "faux wax" white paint, sweeping it everywhere and all over the table, in all the seams, scratched, etc... it was so cool to make a mess and actually want it to drip everywhere! 

8
8. Let the white "faux wax" coat dry until it is slightly tacky, but mostly still wet. If it's cold out like it was when I did my table, maybe 10-15 minutes.

Otherwise...

Just keep an eye on it. You want to be able to wipe most of the white paint off, so it still needs to be fairly wet.

9
9. Take a damp tack cloth or smooth damp rag and gently wipe most of the white paint off but leave some in the cracks, scratches and seams, that's why you don't want to rub too hard.

10
10. You'll have to wash out the cloth when it no longer picks up paint. Then wipe it again until you have achieved the look you want.

11
11. Let dry completely.

12
12. Next, I took some dark chestnut floor stain and rubbed it all over the white "faux wax" and all over the wood showing through.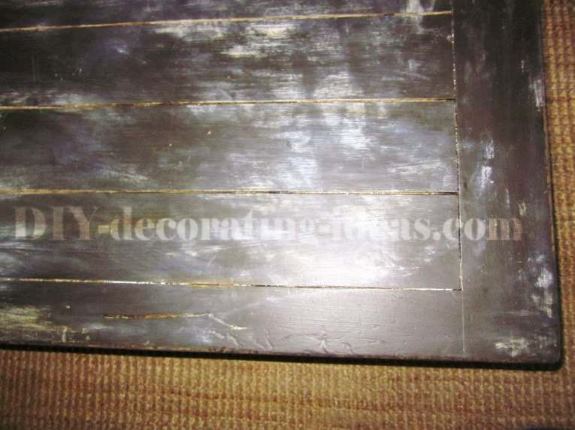 Sorry about the flash, it does not do justice for this step of my black faux wax coffee table project
13
13. Let it soak into the wood a while before you wipe most of it off with a tack cloth.

The goal here is to give it a worn rustic, yet warm appearance.

14

14. Let it dry overnight, or a day or two, then cover the entire table with a matte clear-coat.

15

15. Let cure.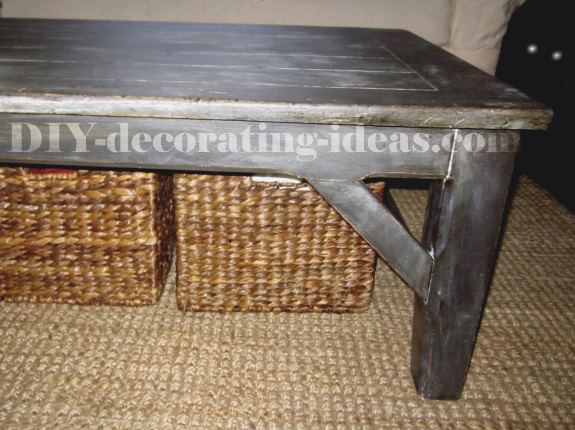 Waiting patiently for my black faux wax coffee table to cure
16

16. Bring into the house. Put brown storage baskets underneath.

Voila!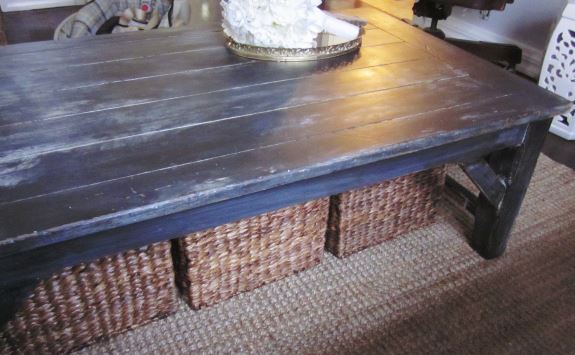 Black faux wax coffee table project finished!
Marvel at your creative genius!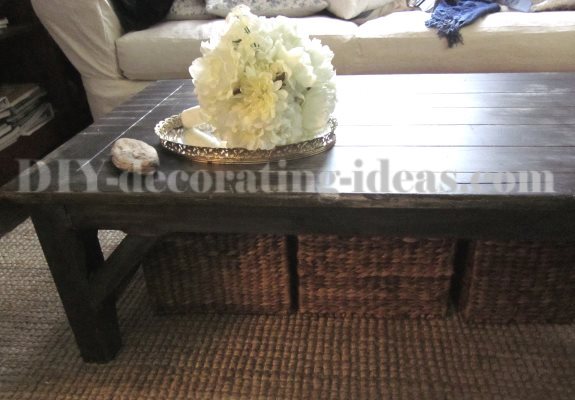 Just the look I absolutely wanted for my black faux wax coffee table!
Bargain Breakdown...
All in all, with my black faux wax coffee table I achieved a very similar look that I saw in the House Beautiful magazine and I am very pleased with the amazing results...so is my husband [BONUS!]. 

I will definitely be painting some more pieces very similar. But not outside in blustery 28 degree weather again!

Stay tuned and sign up for my awesome DIY newsletter!

Price Breakdown:
Second hand table - $8.00
Paint - $4.00

Not bad...you get a $500 looking table for a mere $12!

Entire Project including baskets:

Baskets: $60 for 3
If you were to use these baskets it still keeps the price under $75.00!

Source: Milk Crate Storage Baskets: Target Stores, for about $19.99 each.

Great news...

You can do this "faux wax" easily as well. Just follow my simple steps and you will achieve this popular look. You may need to breath new life into a table as I did or even a set of chairs or an old bed frame...

The sky's the limit!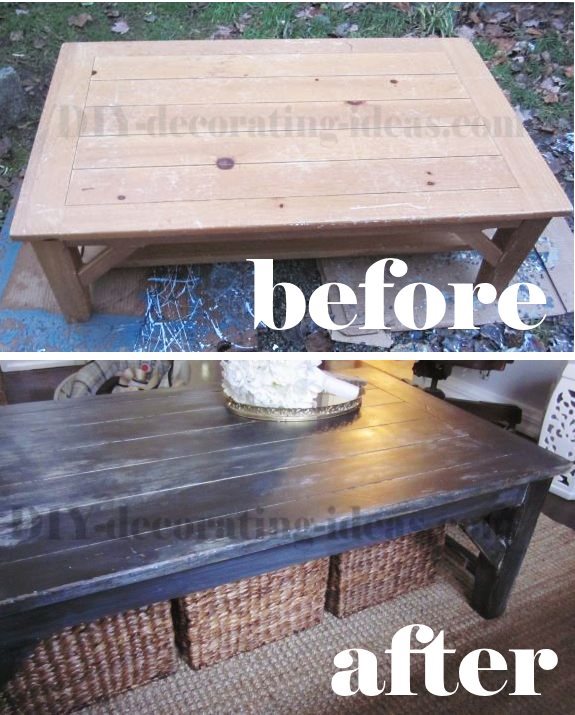 The transformation into my black faux wax coffee table is amazing!
---
More Tables!
After doing my black faux wax coffee table, I couldn't resist experimenting with other tables...
Check out my to-die-for aqua table distressing DIY project here...
Or my white herringbone end table DIY project here...

---
Rescue Recycle Reuse
From my artistic eye, I'm always trying to re-create looks of furniture or textiles that I've seen at markets, stores or in books and magazines from junk or second-hand stores...but for less, much less.

Warning:  If you continue following my transformations, soon you will not be able to pass by a second-hand store, garage sale or even Craigslist without wondering if that piece of junk can be transformed into something spectacular.

It's a hobby. I love it. And I love sharing my results with you. If the transformation bug has bitten you, be sure to share your project, idea or advice with other DIY Decorators here...

Share Your Thoughts or Project
Do you like this project? Do you have anything to add to it? Have you done a project similar to this? Using my methods? Please share your DIY project or add your comments for all my visitors.